New Casualty - AH SHIN (Panama) - Fire
Incident Date:    4th February 2023
Vessel:                AH SHIN
IMO No.              9177430
Type:                   Vehicle Carrier
Incident:             Fire & Adrift
We have learned of an incident involving the vessel AH SHIN, a Panama flag, 57,449 gt, 1999 built, vehicle carrier, which suffered a fire on board in the in the South China Sea.
AH SHIN is reported to be carrying 4,530 cars with 21 Russian sailors on board, and was en route from the Republic of Korea (RoK) to Singapore, when fire broke out as she was passing by the coast of Binh Thuan, another province in southern Vietnam.
Most recent advice is that the ship is floating in the waters of Vung Tau, located roughly 25 nautical miles, more than 45 km, southeast of the shore.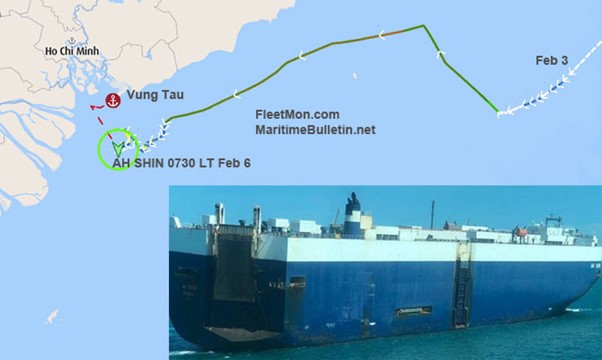 It is understood that the fire has yet to be brought under control and shipowners have sought assistance from Vietnamese authorities, who are still actively implementing rescue plans, reporting that rough seas have prevented rescue workers from reaching the casualty more promptly.
We understand that a Vietnamese ship carrying firefighters is scheduled to arrive at the scene today.
If you are aware of any involvement in this casualty and W E Cox Claims Group may be of assistance in any way, including provision of securities, arranging surveys, adjusting any potential losses &/or undertaking recovery action, please do not hesitate to contact us. As appropriate, please contact:
United Kingdom – Paul Friett cargoclaims@w-e-cox.co.uk
France – Marie-Laure Mirrione MarieLaureMirrione@w-e-cox.eu
Europe – John Jackson Johnjackson@cwhji.com
Hong Kong – Twinnie Lai   twinnie@ceemis.com.hk
Singapore – Paul Sansom  psansom@w-e-cox.com.sg
USA – Joshua Gayer jgayer@w-e-cox.com
Australia – Niall Orr  norr@w-e-cox.com.au
If this or future casualty notices should be forwarded to any of your colleagues, we would be pleased to receive their contact details and we will add them to our Client List.
Share this: